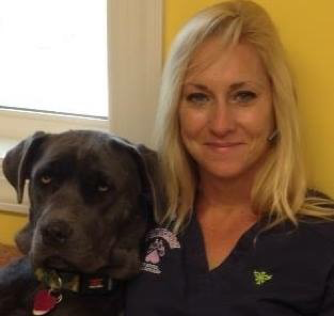 Dena Rowe | Owner/CEO
I graduated Murray State University with the Degree of Master of Science and have dedicated my entire life to animals. Whether participating in animal rescue or attending an exotic animal school in Florida, I have never been happier than I am taking care of animals of all shapes and sizes.
In 2005, I moved to Paducah from Marshall County and was not at all happy with the lack of options for pet care in the area. I decided to take all my experience, education and passion to make sure pets where well cared for, by my standards. I opened Furkidz Pet Hotel in December 2013. I can happily say we are a success! We currently have 9 employees and have had over 5,000 pets utilize our services since we opened! We offer un-paralleled customer service to anyone with any type of animal, including pot-bellied pigs, reptiles, birds and small mammals!

Eric Chandler |Manager/Senior Groomer
I was fortunate to have been raised in a rural area surrounded by my four legged friends. My curiosity and love for animals and learning came together at the age of ten when I started caring for exotic fish and reptiles. My journey in the pet care industry started in 2012 working part time as a groomer's assistant while achieving a bachelors degree in human physiology at Murray State University. I have been with Furkidz since the fall of 2015. 

Tisha Milheiser |Asst. Manager/Trainer
I started working with animals while I was stationed in Germany. I started dog walking/sitting and training and just fell in love with it! I mostly worked with German Shepherds and ended up bringing one back with me! I started working for Furkidz in May of 2018 and it's just been such a blessing for me! I feel like I finally found what I was truly meant to do. I've learned so much just working here and I'm excited to learn more about the care of the different animals that come here. I'm so honored to be apart of their lives and build relationships with these families.

Libby Dupriest | Senior Resort Attendant
My life revolves around animals and I wouldn't have it any other way. I have 20 years of experience with animals and I try to broaden my knowledge daily. I only have four animals of my own: two cats and two dogs. So, to ensure myself of a daily dose of animal euphoria, I head to Furkidz to enjoy pampering and taking care of the animals there. Ahh, bliss! And working for Dena Rowe, who has a special kind of devotion and huge heart makes Furkidz feel like a second home. I love what I do and do what I love. To say I have a passion for animals is an understatement.
"Dogs do speak, but only to those who know how to listen."
                                                                     – Orhan Pamuk

Peyton Hartig |Groomer
Hello my name is Peyton, I have been working at Furkidz since July of 2018 as a
bather/groomer. I have learned a lot since I have been working at Furkidz. I started out working at my Aunts grooming business as a bather when I was a teenager and wanted to learn more about grooming. I love animals and I feel like this is a great job for me! I've been training under my manager Eric for the past year and he has taught me everything I know today! I still have some to learn but I have came a long way! I finally feel like I am at a job where I belong and love making your Furkidz look fabulous!

Laurie Verbaere | Senior Customer Service Specialist
My love of animals started with a deep obsession for horses.  I spent many years working with horses and showing American Saddlebreds.  I also spent 13 years as a horse-drawn carriage driver in downtown Paducah.  Afterwhich, I was a paralegal for over 20 years.  I felt it was time for a change, and have greatly enjoyed working for Furkidz and being able to spend so much time with animals again.
Ashley Holmes | Resort Attendant
Ever since I was a child I have always enjoyed having pets in my home. I have three pets, two of which are three-legged. My dog Samus has been enjoying daycamp at Furkidz almost every day . My cat Kit Kat is the sweetest of hearts. I also have a  rabbit named Nibbler and is the personality of the house. I always imagined one day working with animals and caring for them like my own and I am so happy to say that I have made it. Becoming an animal care specialist is the most rewarding thing I have ever done.